[:en]
– HAIR FIBERS –
Hairatin Hair Building Fibers gives the appearance of thicker and fuller hair instantly. Hairatin natural hair fibers are magnetically design to adhere to your hair to conceal thinning hair and bald spots. The Best woman's and men's hair fibers for those who are struggling with fine hair, a wide hair parting, visible hair transplants, alopecia or undergoing chemotherapy as we are free of ammonia. Hairatin's Hair tech allows the Hair fibers to resist wind, rain and perspiration.
Hairatin hair filler Fibers color mimics the 100 tones on real hair, so no need of mixing colors to achieve the perfect match. Fibers are also "colorfast" which means they won't run or rub on clothes or pillows.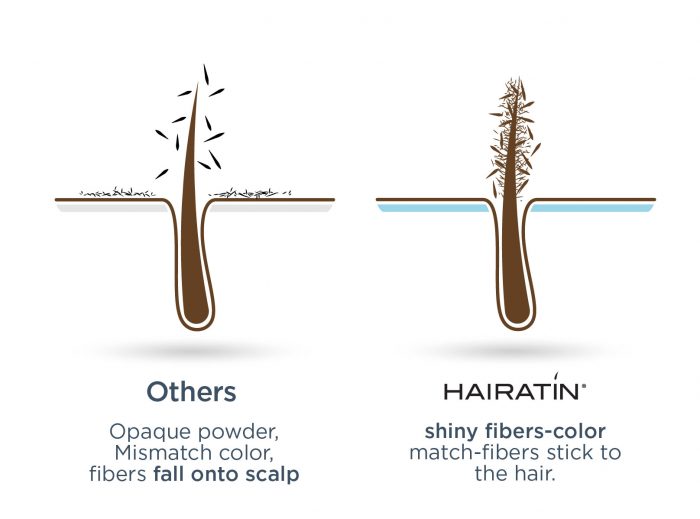 – GRAYS & ROOTS CONCEALER –
Cover roots and grays instantly with Hairatin roots touch up and Grays concealer.

 This Gray hair Concealer adopts a very easy mess-free applicator that combs two conceal grays on head, eyebrows, beard, and mustache and easily touch up roots to extend your salon visits and maintain a healthier hair.  Great for all Hair Types and Textures
 Women. Conceal fast-growing grays around the hairline and defines eyebrows. Extends salon visits and coloring for healthier hair. To be used on roots, loosen grays and eyebrows.
Men. Control how darker you turn your grays by applying more or less. To be used on head, sideburns, beard, and mustache.

– 3D FIBER LASH KIT –
Instant lash extension kit 3D, a Healthier alternative to false lashes.  Get the wide-eyed look of faux eyelashes at home without the harsh chemicals or side effects.
The Lightweight, black sculpting natural hair fibers are built on to your own lashes and Instantly enhances them providing dramatic length and extra volume.
Say bye to fake lashes.